OCIPLA February 2018 Luncheon
February 15, 2018 @ 11:45 am

-

1:30 pm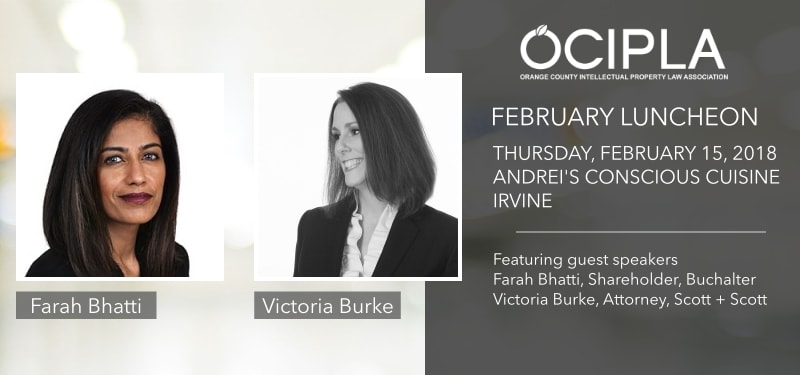 Topic: IP protections for fashion and apparel
Summary
Join us for a moderated panel discussion about IP protections for fashion and apparel! Our panelists are Farah Bhatti and Victoria Burke —two leaders in the intersection of fashion and IP. The panelists will be discussing trends, recent case law, considerations when working with clients in this space, etc.
Orange County Intellectual Property Law Association
Event Name: OCIPLA's February 2018 Luncheon
Date: February 15 2018, 11:45 AM to 01:30 PM
Location: Andrei's Conscious Cuisine, 2607 Main Street, Irvine, CA 92614
Click here to register online and reserve your seat.
Speakers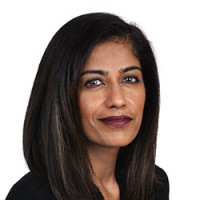 Farah Bhatti
Shareholder, Buchalter
Farah Bhatti is a Shareholder and the Chair of the Internet, E-Commerce, and Social Media Practice Group. She focuses her practice on all aspects of trademark prosecution, including advising, counseling, and securing trademark protection for clients, with an emphasis on the worldwide selection and enforcement of trademarks. She also works closely with clients in formulating their domestic and international trademark protection and registration strategies. Ms. Bhatti expertly navigates the complexities of issues within the areas of registration and enforcement, drawing on experience in private practice as well as her previous position as a trademark examining attorney at the U.S. Patent and Trademark Office (USPTO). While there, she examined more than 2,000 trademark applications and represented the USPTO before the Trademark Trial and Appeal Board (TTAB). She also has extensive experience in the enforcement of Internet and domain names, through the implementation of strategies ranging from cease and desist letters, Uniform Domain Name Dispute Resolution Policy (UDRP) complaints, individual website complaint procedures and even trademark litigation under the Anticybersquatting Consumer Protection Act (ACPA). Ms. Bhatti has been successful in obtaining substantial statutory damages and attorneys' fees on behalf of clients under the ACPA.
Ms. Bhatti frequently speaks on the topic of trademark protection at seminars, including those geared toward the fashion industry. Recently, she was appointed by INTA to the Internet Committee.
Select Experience
Manages large U.S. and international trademark portfolios for consumer electronics clients, machine tool manufacturers, software and hardware companies, chemicals clients, and apparel companies, among other industries. She has been involved in enforcement actions, TTAB proceedings such as oppositions, cancellations, and ex parte appeals and litigation. Ms. Bhatti also represents clients before the USPTO in obtaining trademark registration.
Provides advice, counseling, and implements strategies and systems for Internet enforcement of trademarks.
Provides litigation support for cases involving trademarks and copyrights, and matters involving the protection, registration, and enforcement of copyrights. Formulates strategies for proceeding with enforcement and other intellectual property issues.
Successfully represented clients in Uniform Domain-Name Dispute-Resolution Policy (UDRP) complaints and other adverse proceedings involving trademarks and copyrights.
Provides counseling, strategy, and litigation support to clients interested in litigating under the ACPA against domain infringers/cybersquatters.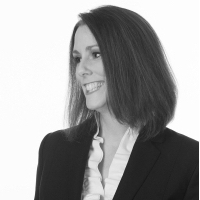 Victoria Burke
Attorney, Scott + Scott
Victoria was selected by Super Lawyers to the 2018 San Diego Rising Stars list and is an attorney for Scott + Scott, Attorneys at Law, LLP. She is licensed to practice law in both California and the District of Columbia. She specializes in intellectual property, such as trademarks, copyright, and fashion law.
On behalf of the American Bar Association, Victoria serves as Vice-Chair of the Trademark Transactions Committee, Chair of the Fashion Law Subcommittee, and former Vice-Chair of the Trademark Litigation Committee.
Victoria frequently authors articles for various legal publications, such as the ABA's Landslide Magazine Best Practices for Filing an Intent-to-Use Trademark Application (summer 2017), and for the Daily Journal: Trade Dress Lawsuits Are in Fashion These Days (August 2017) and Blunt Talk About Trademarks in the Marijuana Business (November 2016). Victoria also serves as a speaker for many programs, including as a panelist for the ABA's webinar Runway Ready: Fashion Law Fundamentals (2016), the Beverly Hills Bar Association's Fashion Forward: Wearable Tech, Design Patents, Privacy, and the latest Fashion Law Cases! (2017), and speaker for the BIL Conference, "Protecting the Dream: IP and Legal Issues" (2015).
Victoria volunteers her time to Bet Tzedek's Employment Rights Project: Wages and Hour cases and regularly serves as a moot court judge for Pepperdine University School of Law's Annual National Entertainment Law Moot Court Competition.
Victoria received her Juris Doctor from Southwestern Law School and her Bachelor of Arts from Arizona State University. In the summer of 2014, she attained a certificate of completion from Loyola Law School's Fashion Law Summer Intensive program. Victoria also studied acting at the American Academy of Dramatic Arts in New York City. She is also the author (V.L. Burke) of the YA book LAST OF THE GODS available on Amazon.com.
Victoria may be contacted at: vburke@scott-scott.com
---
Register online today and reserve your seat.