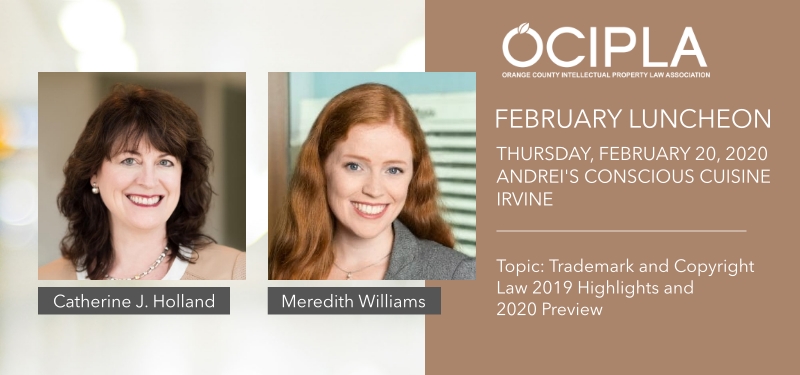 OCIPLA's February 2020 Luncheon
Date: Thursday, February 20, 2020
Time: 12:00 PM to 1:30 PM
Location: Andrei's Conscious Cuisine, 2607 Main Street, Irvine, CA
Topic: Trademark and Copyright Law 2019 Highlights and 2020 Preview

Summary
OCIPLA is pleased to announce the February 2020 luncheon! This month we are pleased to host Catherine J. Holland and Meredith Williams, who will be presenting "Trademark and Copyright Law 2019 Highlights and 2020 Preview."
Speakers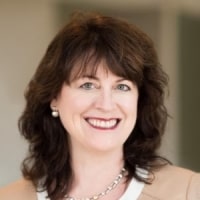 Catherine J. Holland, Partner at Knobbe Martens, is experienced in all aspects of domestic and international trademark, unfair competition and copyright matters.
Her practice includes domestic and foreign trademark selection and clearance, trademark procurement and prosecution, inter partes proceedings before the Trademark Trial and Appeal Board (TTAB), intellectual property audits, intellectual property licensing, franchising, domain name disputes, counterfeit goods and customs, copyrights, entertainment law, rights of publicity, and trademark and copyright enforcement and litigation.
Catherine represents clients in a wide range of industries, including the nutritional supplement, software, hardware, motor vehicle, medical device, skincare and aesthetic, fashion and apparel, publishing, entertainment, music, financial, restaurant, and food and beverage industries.
Representative clients include Nutrishop, Paris Blues, Fairtrade Organization, Hockey Monkey, Cutera, Teacher Created Materials, Jean d'Arcel and Robert Lamy. For many years she has represented an international manufacturer of motor vehicles.
In surveys conducted by EuroMoney's Legal Media Group, Catherine was named one of the "World's Leading Trademark Practitioners." She has also been awarded the title "Super Lawyer" in surveys of her peers conducted by Los Angeles Magazine and Super Lawyers magazine. This recognition is limited to only five percent of lawyers in Southern California. In 2009, Catherine was named one of Orange County's Top Lawyers by OC Metro magazine.
Catherine is an editor and contributor for the firm's Fashion & Beauty Blog. Catherine joined the firm in 1987 and became a partner in 1991.
Meredith Williams, Associate at Rutan & Tucker, LLP, focuses on representing and advising clients in protecting their intellectual property rights. Meredith's practice emphasizes trademark and copyright litigation, trade secret misappropriation, false advertising, and unfair competition, and she advises clients on how best to promote and defend their brands and other IP assets given novel legal issues raised by social media and advances in technology. Her experience representing both plaintiffs and defendants in federal and state court, in ex parte and inter partes proceedings before the USPTO and TTAB, and in domain name dispute and other takedown procedures gives Meredith a variety of tools to assist clients in both enforcing and defending their rights.
Prior to joining Rutan & Tucker, Meredith worked at Jones Day, where she represented clients in all aspects of complex litigation in state and federal courts, including drafting and responding to pleadings, discovery, and pre- and post-trial motions, taking and defending depositions, and preparing matters for hearing at trial and arbitration proceedings.