OCIPLA September 2023 Luncheon
September 21 @ 12:00 pm

-

1:00 pm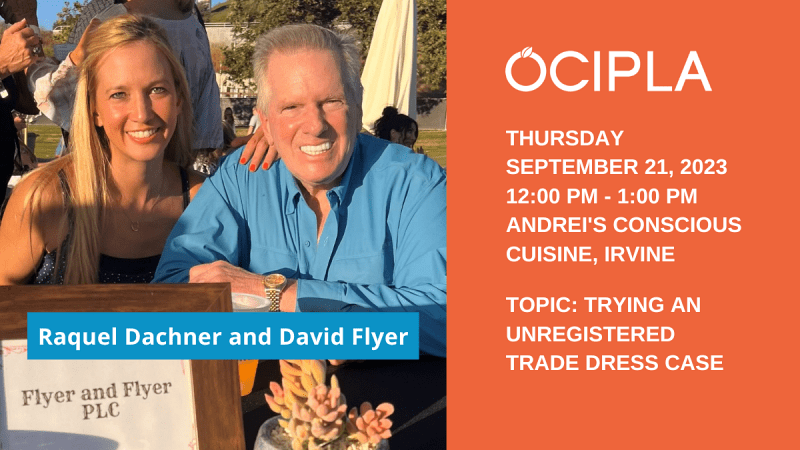 Guest Speakers: Raquel Dachner and David Flyer, Flyer & Flyer, PLC
Topic: Trying an Unregistered Trade Dress Case
Date: Thursday, September 21, 2023
Time: 12:00pm – 1:00pm
Location: Andrei's Conscious Cuisine, 2607 Main St, Irvine, CA 92614
Registration:
Member: $55.00
Non-Member: $80.00
Student Member: $20.00

Our Speakers
Raquel Flyer Dachner
Raquel received her bachelor's degree from the University of Southern California, then went to law school at UC Davis School of Law graduating in 2011. She is a partner at Flyer and Flyer, PLC, and has been lead trial counsel on eight jury trials involving trade dress infringement, breach of contract, and other civil matters. Recently, on July 28, 2023, the jury returned a verdict in favor of her client, a physician's group, against a fortune 150 company-machine manufacturer.  The manufacturer sold the physician's group a blood and tissue assay machine which failed to operate as warranted, where the manufacturer claimed that the physician's laboratory technicians failed to maintain and operate the machine as described in the owner's manual.  Both sides retained experts, and a key piece of evidence according to the jury, was an edited video presentation depicting both maintenance and operations. The matter was heard by the Honorable Sherilyn Peace Green, US District Court for Central District of California.
David Flyer
David Flyer is 1974 graduate of the U.S. Military Academy, following which he served for over five years on active duty.  He obtained the rank of Captain.  After military service, Mr. Flyer received a M.S. in Systems Engineering from the University of Southern California and matriculated from Southwestern University SOL in 1981, and was admitted to the bar thereafter.  He is a Registered Patent Attorney and a member of the American Board of Trial Advocates. One successful method we use to handle good claims with inventors and smaller businesses involves a modified contingency arrangement, where the client pays costs and a modest retainer.  In this manner, we make the legal system more accessible.