VIRTUAL PROGRAM – The Unified Patent Court: Initial Cases
November 16 @ 12:00 pm

-

1:00 pm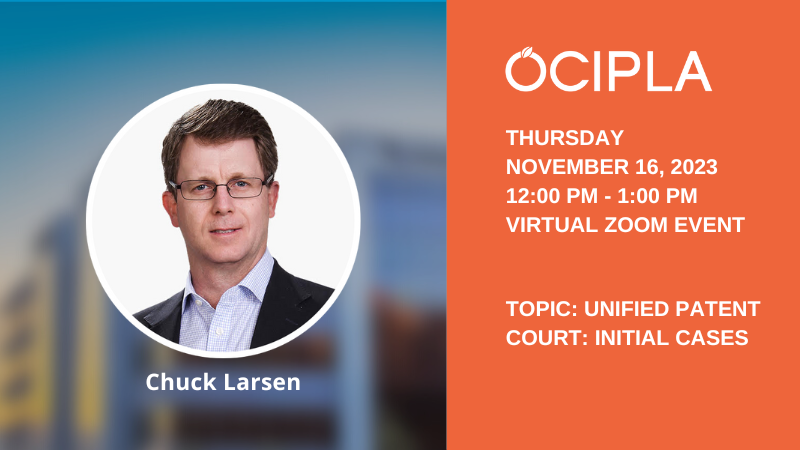 Topic: Unified Patent Court: Initial Cases

The Unified Patent Court (UPC) entered into force on June 1, 2023 in the European Union. Hundreds of cases have been filed there, already. In a few cases, the Court has issued preliminary injunction decisions that have been favorable for patent owners. This presentation will review the initial cases, including trends in the divisions being used, the parties accessing the court, and the substantive decisions made so far.
The presentation will also consider the structure and incentives of the court in comparison to U.S. tribunals and will consider more generally how the launch of the UPC aims to transform the global patent litigation market. The presentation will also consider the expected impact of the Court on due diligence exercises in transactions and valuations.
Date: Thursday, November 16, 2023
Time: 12:00pm – 1:00pm
Location: Virtual Event (zoom link to be provided)
Registration:
Member: $20.00
Non-Member: $20.00
Student Member: $20.00

Speaker:
Charles (Chuck) Larsen, Partner, McDermott Will & Emery (Boston, London)
As a US lawyer and English solicitor, Charles (Chuck) Larsen provides clients sophisticated multi jurisdictional counsel in intellectual property portfolio strategy, transactions and disputes, with a particular emphasis in bioengineering and the medical technology space. He is licensed to practice before the US Patent and Trademark Office (USPTO), the European Patent Office (EPO), and the courts of England and Wales.
He actively counsels on transatlantic disputes, including U.S. District Court cases, Patent Trial and Appeal Board (PTAB) proceedings, Reexaminations, EPO Oppositions, and litigation. His team is one of the first international practices to bring an action in Europe's Unified Patent Court.
Chuck also has extensive experience in transactional IP matters, including transaction structuring and portfolio due diligence for investments and acquisitions, and negotiating collaboration license agreements, joint ventures and other strategic commercial contracts involving key IP assets.
Chuck has advised on a wide range of technology in engineering and life sciences, including bioengineering and medical technology, pharmaceuticals, microfluidics, drug delivery, machine learning, signal processing, combustion and energy. In the medical technology sector, his experience has involved a wide range of technologies, including intravascular devices, respiratory systems, orthopedic implants, cellular therapy, tissue engineering, neuromonitoring, spine technology, electrical stimulation, healthcare informatics, DNA sequencing, software driven devices, biological manufacturing and diagnostics.