OCIPLA May 2022 Luncheon
May 26, 2022 @ 12:00 pm

-

1:00 pm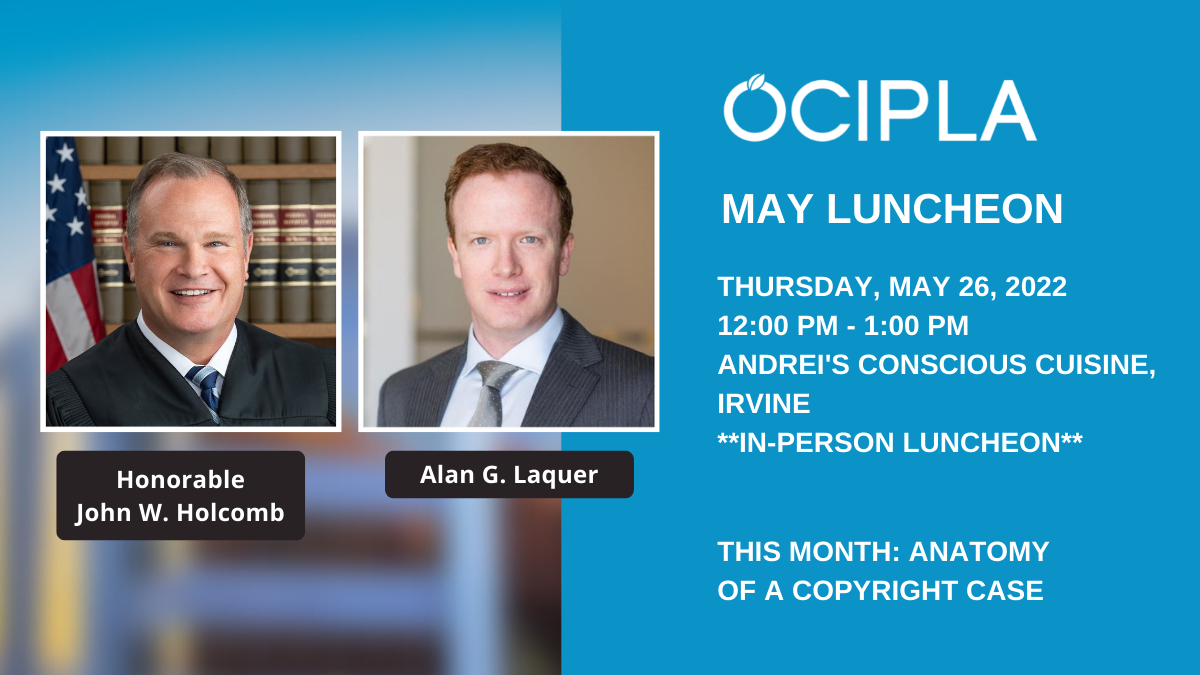 Speakers:  Honorable John W. Holcomb and Alan G. Laquer
Topic:  Anatomy of a Copyright Case
Date/Time:  Thursday, May 26 at 12:00 PT
Location: In-person at Andrei's Conscious Cuisine, 2607 Main St, Irvine, CA 92614

SPEAKERS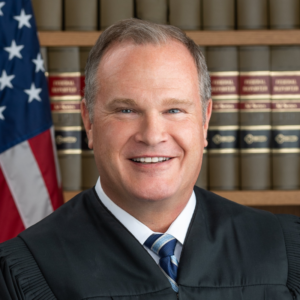 Honorable John W. Holcomb
Judge Holcomb earned his B.S. in civil engineering from the Massachusetts Institute of Technology in 1984. For the next five years, he served as a commissioned officer in the United States Navy, including assignments aboard the battleship U.S.S. New Jersey (BB-62) and with the Joint Staff at the Pentagon. In 1993, Judge Holcomb received his M.B.A. from Harvard Business School and his J.D., cum laude, from Harvard Law School. He then served as a law clerk for Judge Ronald Barliant of the U.S. Bankruptcy Court for the Northern District of Illinois. Thereafter, Judge Holcomb was an associate with Irell & Manella LLP. In 1997, he joined the intellectual property law firm of Knobbe, Martens, Olson & Bear, LLP, and he was elevated to partner in 2002. Judge Holcomb retired from Knobbe Martens in 2018, and he briefly practiced as a bankruptcy and litigation sole-practitioner before joining the firm Greenberg Gross LLP as a partner in 2019. In September 2020, the U.S. Senate confirmed Judge Holcomb's appointment as a District Judge.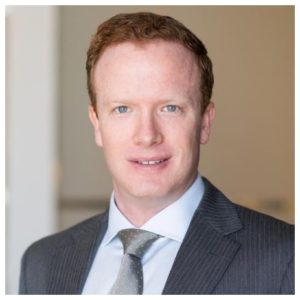 Alan G. Laquer
Alan Laquer is a litigation partner in the Knobbe Martens Orange County office. He has litigated dozens of patent, trade secret, trademark, technology contract, and copyright cases. Relying on his industry experience as a programmer, Alan frequently handles cases with software/IT claims. Alan represents clients ranging from startups to industry leaders, and as defendants as well as plaintiffs. His victories include resolving several cases through motions to dismiss, summary judgment, trial, and appeal. Alan focuses on litigating efficiently and ensuring that case strategy matches his clients' business goals. He has served as second-chair trial counsel in district court, the International Trade Commission, and arbitration. He is a registered Patent Attorney and has litigated several inter partes reviews for petitioners as well as patent owners. Alan has also worked as a criminal trial prosecutor in the Orange County District Attorney's Office through its Trial Attorney Partnership program.