OCIPLA Ping Pong Tournament
July 20, 2017 @ 6:30 pm

-

8:00 pm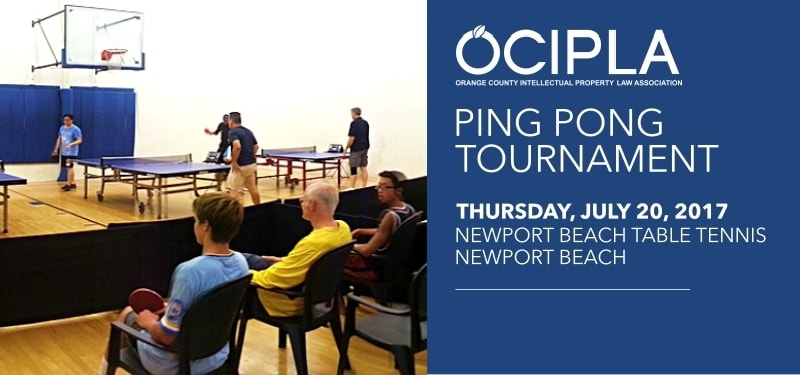 Organization: Orange County Intellectual Property Law Association
Event Name: OCIPLA Ping Pong Tournament
Date: July 20 2017, 6:30 PM to 8:30 PM
Location: Newport Beach Table Tennis, 1367 Avocado Ave, Newport Beach, CA 92660
The OCIPLA is happy to announce a ping pong tournament to take place July 20 at 6:30 PM at Newport Beach Table Tennis!
It's like a real sport, but you don't actually need to be in shape! So maybe it's an activity, like golf.
This event is a coordinated effort with the Women in IP committee of our organization, and we'll be taking the opportunity to run a food drive. So, we will have several options for admission:
1. Pay $20 to enter the tournament/attend as a spectator
2. Bring 5 non-perishable foods and pay $10
3. Bring 8 cans of food and come for free!
REGISTRATION INSTRUCTIONS:
To enter as a participant in the competition, please fill out this form. The first, say, 32 people to fill out the form will be entered in the tournament as contestants. Use a valid email address, as I'll be emailing you to let you know whether you've made the cutoff.
Whether you are a participant or a spectator, please register for the event as you normally would so we know how many to expect (see below).
Pleas be prepared to pay when you arrive.
Click here to reserve your seat.
For further information contact:
Orange County Intellectual Property Law Association
Email: ocipla_board@ocipla.org