OCIPLA September 2017 Luncheon
September 21, 2017 @ 11:45 am

-

1:30 pm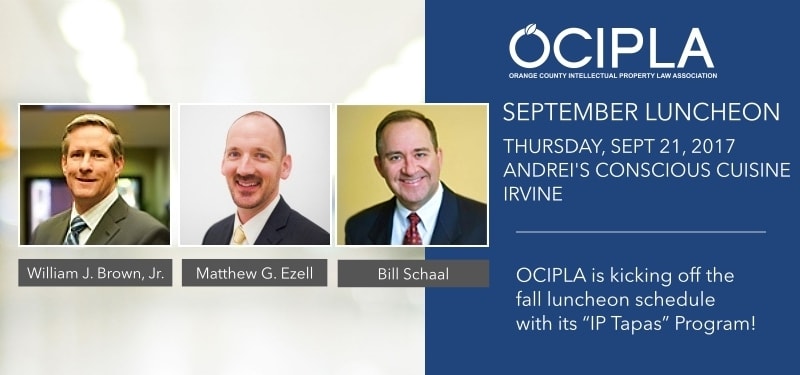 OCIPLA's September 2017 Luncheon
Date: Sep 21 2017
Time: 11:45 AM to 01:30 PM
Location: Andrei's Conscious Cuisine, Irvine, CA
Topic: OCIPLA's "IP Tapas" Program
Summary
OCIPLA is kicking off the fall luncheon schedule with its "IP Tapas" Program!
Please join us for a dynamic look at three different IP topics that are impacting business and the practice of IP law, with speakers:
William J. Brown, Jr., Partner, Brown Wegner LLP – TC Heartland: A look at the OCIPLA amicus brief and the aftermath of the US Supreme Court's decision
Matthew G. Ezell, Partner, Ford Bubala & Associates –Trademarks: The latest in trademark surveys
Bill Schaal, Partner, Rutan & Tucker, LLP – Patent Prosecution: Using the USPTO examiner count system in your favor
Because there is a limited capacity for this event, we recommend advanced registration to reserve your seat.

Speakers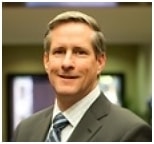 William J. Brown, Jr.
Partner, Brown Wegner LLP
Bill Brown is a civil litigator who has extensive experience representing clients in intellectual property litigation, products liability defense, business disputes, and complex commercial litigation in arbitration and state and federal courts.
His range of experience includes cases involving diverse technologies, such as medical devices, digital signal processing, aerospace operations, flat screen display panels, semiconductors, Internet servers, database management systems, pharmaceuticals, nutritional supplements, and automotive parts. Bill has represented action sports companies in disputes over intellectual property rights related to skateboard and footwear products. In addition, Bill has handled complex international trade secret disputes in state and federal courts.
Bill has obtained verdicts and awards for his clients in high stakes litigation and arbitration. He has argued and won appeals in the California Court of Appeal and at the Federal Circuit.
Prior to founding Brown Wegner LLP, Bill practiced for more than a decade in the Intellectual Property Group at the international law firm Jones Day, and also operated his own practice.
Bill was a Visiting Professor at Chapman University School of Law, where he taught classes and supervised students in the Veterans Law Center, which focuses on assisting veterans. Bill also coached Moot Court at Western State University School of Law.
Before attending law school, Bill served in the United States Air Force, where he was a navigator, instructor and flight examiner on C-130 aircraft. His military experience includes tactical deployments worldwide, evaluation of high-technology equipment, and the performance of sensitive national security tasks.
Bill is active in legal, civic, and charitable organizations in Orange County, and serves on executive and advisory boards for a number of organizations. He is a fellow of the Litigation Counsel of America and has been named a "Super Lawyer" for numerous years.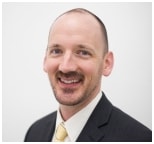 Matthew G. Ezell
Partner, Ford Bubala & Associates
Matthew G. Ezell is a partner in the marketing research and consulting firm of Ford Bubala & Associates, located in Huntington Beach, California. As a partner at Ford Bubala & Associates, Matt has been engaged in commercial marketing research and consulting projects in a variety of areas in the consumer product, industrial product, and service sectors of the economy.
For sixteen years, Matt has participated in litigation-related consultancies involving intellectual property matters, including matters pending before U.S. federal courts, the Trademark Trial and Appeal Board of the U.S. Patent and Trademark Office, and the International Trade Commission. He has also participated in litigation-related consultancies involving intellectual property matters in Canada.
In 2017, Matt authored Intellectual Property Surveys: 2016, which is the latest paper in a series of regular compendiums of excerpts from case opinions covering surveys on genericness, descriptiveness/suggestiveness, secondary meaning, likelihood of confusion, false and/or misleading advertising, fame, and dilution. This paper was published by Ford Bubala & Associates and was also published electronically by the INTA.
Matt holds a Bachelor's Degree in Japanese (B.A.) from California State University, Fullerton and a Master's Degree in Linguistics (M.A.) from California State University, Long Beach. Matt also has a Graduate Certificate in Survey Research from the University of Connecticut.
Matt is a member of Insights Association (a merger of The Marketing Research Association (MRA) and the Council of American Survey Research Organizations (CASRO)), the American Marketing Association (AMA), the American Association for Public Opinion Research (AAPOR), and the International Trademark Association (INTA).
Matt is also a member of the Article Solicitation and Development Sub-Committee of the Trademark Reporter (TMR).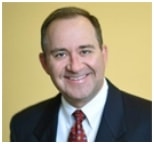 Bill Schaal
Partner, Rutan & Tucker, LLP
Bill Schaal is a partner in the firm's Intellectual Property (IP) group and registered as a patent attorney with the United States Patent and Trademark Office, Mr. Schaal concentrates his practice on counseling and services in connection with patent-related matters. For over 20 years, Mr. Schaal has assisted his clients in the development of IP portfolios. This IP portfolio development focuses on the preparation and prosecution of patent applications over a wide range of technological fields such as computer electronics, mechanical and medical devices, network infrastructure, IoT sensors, software, and data security.
Mr. Schaal has successfully protected and expanded the IP portfolios for many companies, from multi-national, multi-billion dollar corporations to start-up companies, some of which have gone public with billion dollar valuations and subsequent multi-billion dollar acquisition values. His educational background and expertise lends itself to the counseling of high technology and emerging companies.
Mr. Schaal also handles a variety of other patent-related matters, including offensive and defensive patent portfolio reviews; invalidity and non-infringement analyses of third party patents directed to IEEE standards as well as wireless, mechanical device, medical device and computer-related technologies; freedom-to-operate opinions; and due diligence investigations prompted by acquisition or licensing ventures.
Mr. Schaal has lectured on a variety of topics in the fields of patent prosecution, and has been recognized in various national publications including Super Lawyers, Los Angeles magazine and the American Lawyer.
---
Register online today and reserve your seat.