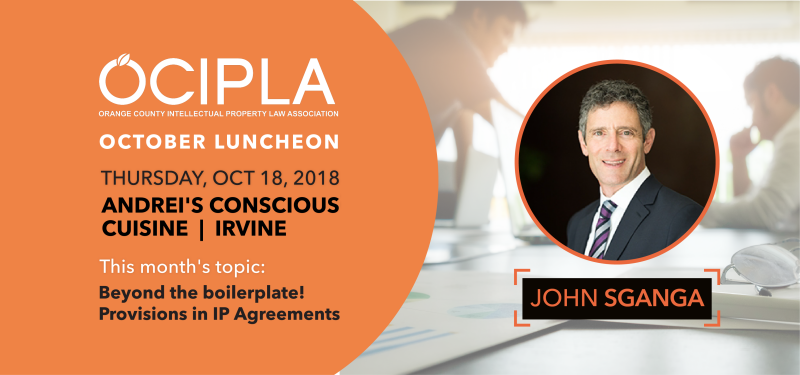 OCIPLA's October 2018 Luncheon
Date: Thursday, October 18, 2018
Time: 11:45 AM to 1:30 PM
Location: Andrei's Conscious Cuisine, Irvine, CA
Topic: Beware the boilerplate! Provisions in IP agreements that can create unintended consequences.

We are pleased to announce OCIPLA's October luncheon on Thursday, Oct. 18, 2018. This month, we will be hosting John Sganga of Knobbe. John will be talking about provisions in IP agreements that can create unintended consequences.
Summary
Beware the boilerplate! Common provisions in IP related agreements can end up limiting your client's rights. Many of these provisions you might consider favorable to your client, but instead can have unintended consequences, such as limiting your ability to petition for IPR. Learn about these pitfalls and how to avoid them.
Speaker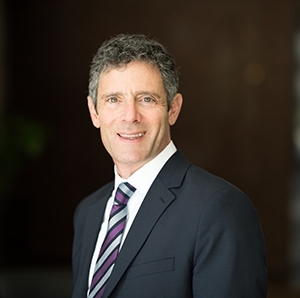 An experienced and proven advocate and trial lawyer, John Sganga has spent over three decades successfully and exclusively litigating intellectual property and technology disputes. John's cases always involve a client whose technology or brand has been stolen or high-jacked, or who has been wrongly accused of doing so.
A quick study in understanding even the most pioneering innovation, John is able to distill complex technologies to their core while gaining an in depth understanding of his client's business model and financial imperatives. John's skills as an effective communicator and persuasive negotiator enable him to thrive in high pressure situations and high-stakes cases. He is regarded as someone who remains calm while out-thinking and out-persuading his opponents.
John is personally dedicated to working diligently to define a win for his client at the onset of every matter, developing a distinct approach to problem-solving and leading his team in executing the right strategy appropriately and energetically to victory. Having represented plaintiffs and defendants alike, John has secured victories for both sides in cases where over $100 million, and even the company, were at stake. He appears in courts nationwide, including jury trials, bench trials, arbitrations, appeals and administrative proceedings before the Patent Trial and Appeal Board (PTAB), Trademark Trial and Appeal Board (TTAB) and the International Trade Commission (ITC).
John's experience includes patent, trade secret, copyright and trademark infringement matters, as well as contract disputes involving technology development and IP rights. The industries with which John is familiar are also diverse and range from medical and dental devices, engine technology and software, to food and beverage and consumer products.